Family
Kid PopAction Class with STREB EXTREME ACTION
9.19.21 - 9.19.21
10:00 am - 11:00 am
Kid PopAction Class with STREB EXTREME ACTION
Kids PopAction weaves together dance, acrobatics, athletics and Hollywood stunt work – in age-appropriate, safe, fun classes.
Please note: Even if all reservations are sold out, walk-ins for this event will be accepted, if space is available.
Become an action hero with the professional dancers and educators of the STREB Extreme Action Company. Kids PopAction weaves together dance, acrobatics, athletics and Hollywood stunt work – in age-appropriate, safe, fun classes designed for an outdoor learning environment. STREB operates on a 'personal best' principle; with methods that suit all body types, ages, and skill sets.
Recommended age: 5-10 years old
What to bring/wear: Participants should wear clothes that they are comfortable moving in, and shoes that are appropriate for running, jumping and moving. All participants, regardless of vaccination status, must wear a mask while attending this class.
PLEASE NOTE:
There must be at least one adult per family present during the entire event – this is not a drop off event.
Ticket is valid for one child.
Advanced registration does not guarantee a spot. We will hold spots for registered participants until 10 minutes before class begins after which walk-ins will be accommodated on a first-come, first-served basis.
We recognize that plans change, and if this is the case, please CANCEL your tickets so that we can make the opportunity available to another family. We will have a waitlist for this event.
All participants must read and sign our WAIVER in order to attend class. Please try to do this prior to your arrival to ensure a speedy check in!
In case of inclement weather the event will be cancelled. In the event of a cancellation, all attendees will be notified via the email address provided during registration.
About STREB Lab for Action Mechanics (SLAM): The STREB Lab for Action Mechanics (SLAM) is home to the internationally renowned STREB Extreme Action Company, the STREB PopAction School, and the España-STREB Trapeze Academy. It is an international action factory for participants of all ages and backgrounds and a community space that embodies a commitment to open access and engagement.
LOCATION: To get to Manhattan West Plaza, either #1) enter on 9th Avenue, between 31st and 33rd Streets, past Citrovia (look for lemons) or #2) enter on 33rd Street, on the south side, midway between 9th and 10th Avenues. (See map below.)
______________________________________________________________________________________
All events and activations at Manhattan West adhere to New York State regulations to ensure the safety of the public and staff.
Health & Safety Requirements:
Face coverings are required for ALL attendees, regardless of vaccination status, and should cover your nose and mouth at all times throughout the experience.
Due to various parties comfort levels, we request that you maintain a respectful distance between yourself and others not in your party when possible.
______________________________________________________________________________________
RECEIVE A FREE GIFT! Attend an art installation or event presented by Brookfield Properties at each of the following three locations—Brookfield Place, Manhattan West, and Brooklyn Commons—and you'll receive a gift! Send one email attaching a photo of each event attended to arts@brookfield.com for verification, and we'll give you a fun treat.
By registering for this free exhibition, you will also be signing up for emails from Manhattan West. Please note you can unsubscribe at anytime. See the Privacy Policy here.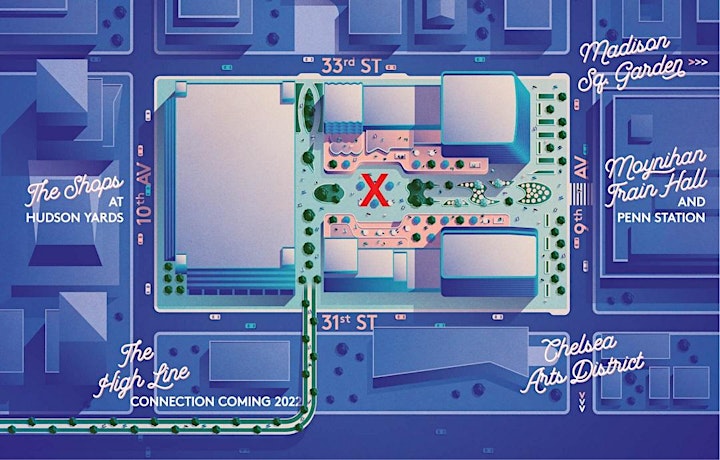 Read more
Information
Family
395 9th Ave Enter Plaza at 9th Avenue, Between 31st & 33rd Streets, New York, NY 10001
Register